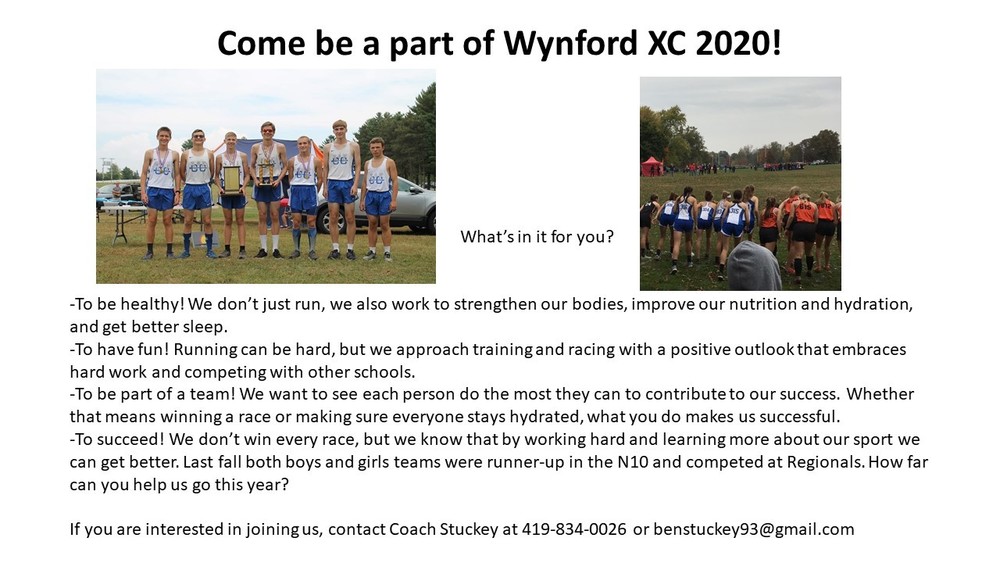 Wynford Cross Country 2020 Sign Ups
Brent Konkle
Sunday, May 24, 2020
Come be a part of Wynford XC 2020!
What's in it for you?
To be healthy! We don't just run, we also work to strengthen our bodies, improve our nutrition and hydration, and get better sleep.
To have fun! Running can be hard, but we approach training and racing with a positive outlook that embraces hard work and competing with other schools.
To be part of a team! We want to see each person do the most they can to contribute to our success. Whether that means winning a race or making sure everyone stays hydrated, what you do makes us successful.
To succeed! We don't win every race, but we know that by working hard and learning more about our sport we can get better. Last fall both boys and girls teams were runner-up in the N10 and competed at Regionals. How far can you help us go this year?
If you are interested in joining us, contact Coach Stuckey at 419-834-0026 or benstuckey93@gmail.com