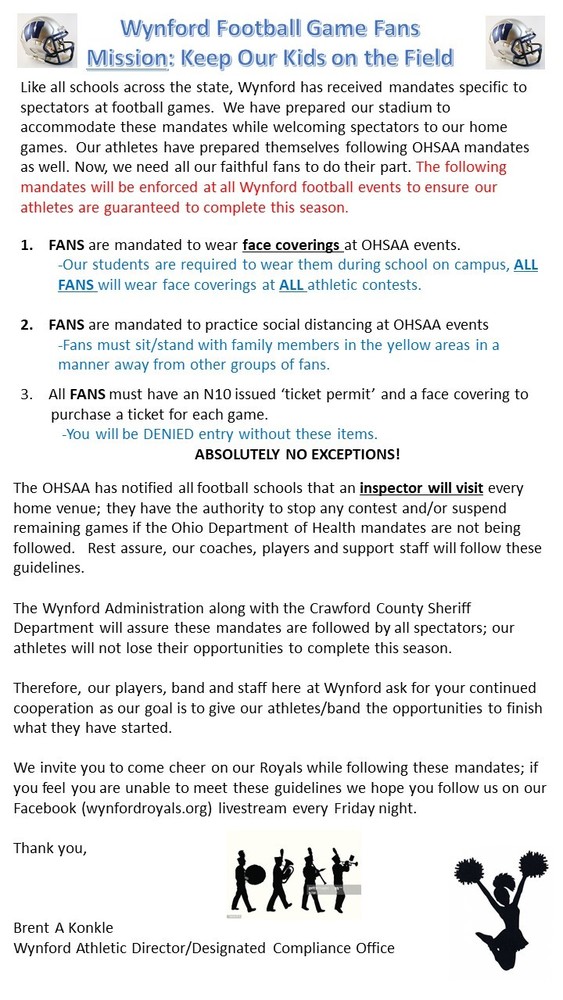 Wynford Home Football Spectator Game New Guidelines 8/31/20
Brent Konkle
Monday, August 31, 2020
Wynford Football Game Fans
Mission: Keep Our Kids on the Field
Like all schools across the state, Wynford has received mandates specific to spectators at football games. We have prepared our stadium to accommodate these mandates while welcoming spectators to our home games. Our athletes have prepared themselves following OHSAA mandates as well. Now, we need all our faithful fans to do their part. The following mandates will be enforced at all Wynford football events to ensure our athletes are guaranteed to complete this season.
1.FANS are mandated to wear face coverings at OHSAA events.
-Our students are required to wear them during school on campus, ALL FANS will wear face coverings at ALL athletic contests.
2.FANS are mandated to practice social distancing at OHSAA events
-Fans must sit/stand with family members in the yellow areas in a manner away from other groups of fans.
3.All FANS must have an N10 issued 'ticket permit' and a face covering to
purchase a ticket for each game.
-You will be DENIED entry without these items.
ABSOLUTELY NO EXCEPTIONS!
The OHSAA has notified all football schools that an inspector will visit every home venue; they have the authority to stop any contest and/or suspend remaining games if the Ohio Department of Health mandates are not being followed. Rest assure, our coaches, players and support staff will follow these guidelines.
The Wynford Administration along with the Crawford County Sheriff Department will assure these mandates are followed by all spectators; our athletes will not lose their opportunities to complete this season.
Therefore, our players, band and staff here at Wynford ask for your continued cooperation as our goal is to give our athletes/band the opportunities to finish what they have started.
We invite you to come cheer on our Royals while following these mandates; if you feel you are unable to meet these guidelines we hope you follow us on our Facebook (wynfordroyals.org) livestream every Friday night.
Thank you,
Brent A Konkle
Wynford Athletic Director/Designated Compliance Office