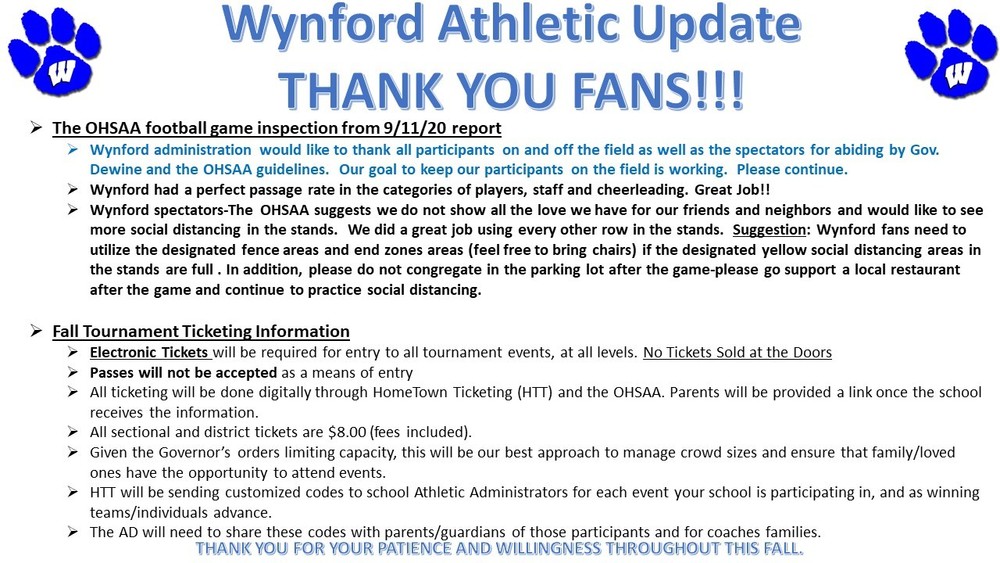 Wynford Athletic Update Thank You Fans 9-22-2020
Brent Konkle
Tuesday, September 22, 2020
Wynford Athletic Update 9-22-2020
Thank You Fans
ØThe OHSAA football game inspection from 9/11/20 report
ØWynford administration would like to thank all participants on and off the field as well as the spectators for abiding by Gov. Dewine and the OHSAA guidelines. Our goal to keep our participants on the field is working. Please continue.
ØWynford had a perfect passage rate in the categories of players, staff and cheerleading. Great Job!!
ØWynford spectators-The OHSAA suggests we do not show all the love we have for our friends and neighbors and would like to see more social distancing in the stands. We did a great job using every other row in the stands. Suggestion: Wynford fans need to utilize the designated fence areas and end zones areas (feel free to bring chairs) if the designated yellow social distancing areas in the stands are full . In addition, please do not congregate in the parking lot after the game-please go support a local restaurant after the game and continue to practice social distancing.
ØFall Tournament Ticketing Information
ØElectronic Tickets will be required for entry to all tournament events, at all levels. No Tickets Sold at the Doors
ØPasses will not be accepted as a means of entry
ØAll ticketing will be done digitally through HomeTown Ticketing (HTT) and the OHSAA. Parents will be provided a link once the school receives the information.
ØAll sectional and district tickets are $8.00 (fees included).
ØGiven the Governor's orders limiting capacity, this will be our best approach to manage crowd sizes and ensure that family/loved ones have the opportunity to attend events.
ØHTT will be sending customized codes to school Athletic Administrators for each event your school is participating in, and as winning teams/individuals advance.
ØThe AD will need to share these codes with parents/guardians of those participants and for coaches families.