track progress of project in pictures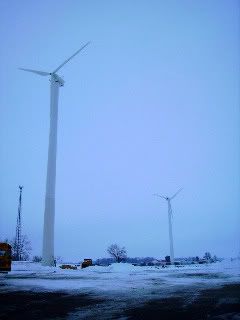 Wynford Local Schools hosts two wind turbines to satisfy approximately 30% of its electricity needs.
Project Information:
System Size
Two 100 kilowatt turbines
System Host
Wynford Local Schools
Project Developer
NextGen Energy Partners LLC
System Installer
Engineered Process Systems
Turbine Model
Northwind 100
Turbine Specifications

37m Hub Height
Tubular tower, secure internal access
21m rotor diameter, Passive stall, Fixed pitch, Upwind direct drive generator, 480V AC, 60Hz

Annual Product (Est)
175,000 kWh per turbine
Project Facts:
Generation from the turbines provides 30% of Wynford Local Schools' electricity needs.
The turbines will supply enough power yearly to meet the needs of 31 homes
Similar environmental impact to:

avoiding the emission of 554,148 pounds of carbon dioxide per year
carbon sequestered by 53.6 acres of pine fir forest

The wind turbines are manufactured in Vermont and each tower contains more than 28,000 pounds of US steel.
All turbines are built to withstand winds of more than 134 mph (more than three times the local building codes).
Wind energy provides more jobs per dollar invested than any other energy technology.